Happily never after?
Genre: Comedy
Duration: 12 minutes
Release date 24th December 2020
Written by Sara Jordan.
Synopsis
Hayley is stuck in a toilet on her hen do, Ryan is chained to a post on his stag when both realise they don't want to get married but will they let each other know?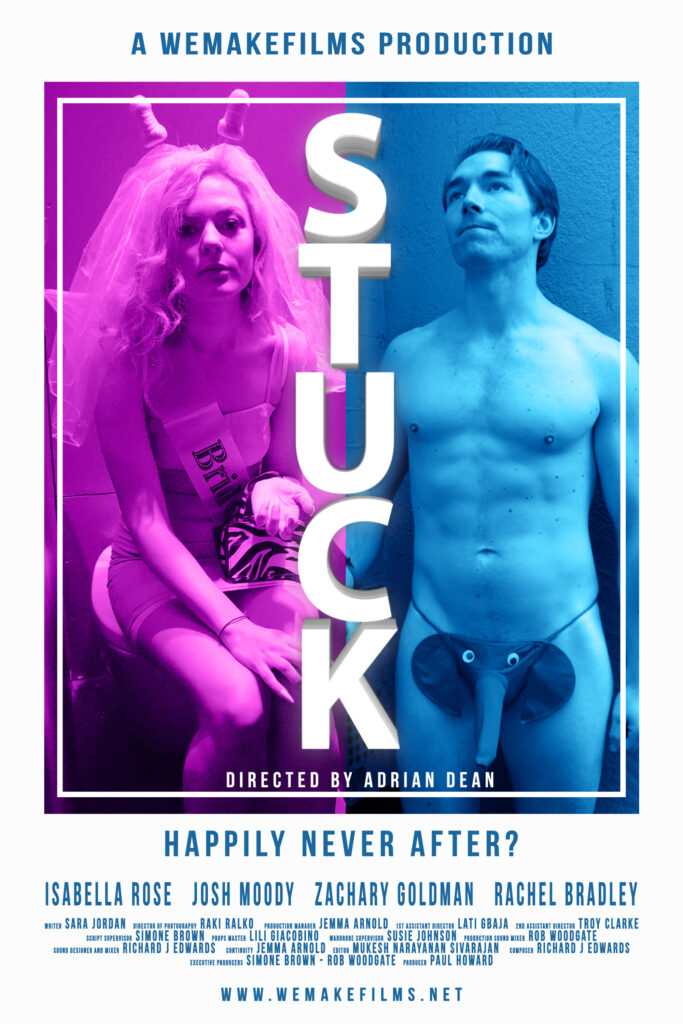 ---
Stuck – Director's statement
Adrian Dean
I was given the chance to direct Stuck after the previous Director was struck down with COVID-19 symptoms. I only had two days to familiarise myself with the script and pre production elements. So it was a steep learning curve to be able to pick up where the previous director left off.
I welcomed the challenge and met a well prepared cast that had benefited from rehearsals. After making a few changes, I jumped right in with the rest of the cast and crew.
The pandemic and the pending lockdown added pressure to the shoot. We were able to pull it off with some great performances and mastery from the cast and crew. After a busy post production period we managed to pull all the elements together to present the film you see today.
About Adrian
Adrian is a writer/director, a visual story teller and editor. Inspired by his Father's acting and playwriting career, Adrian graduated from London Metropolitan University with a degree in Film and Broadcast Production, before starting his own production company, 4word Motions.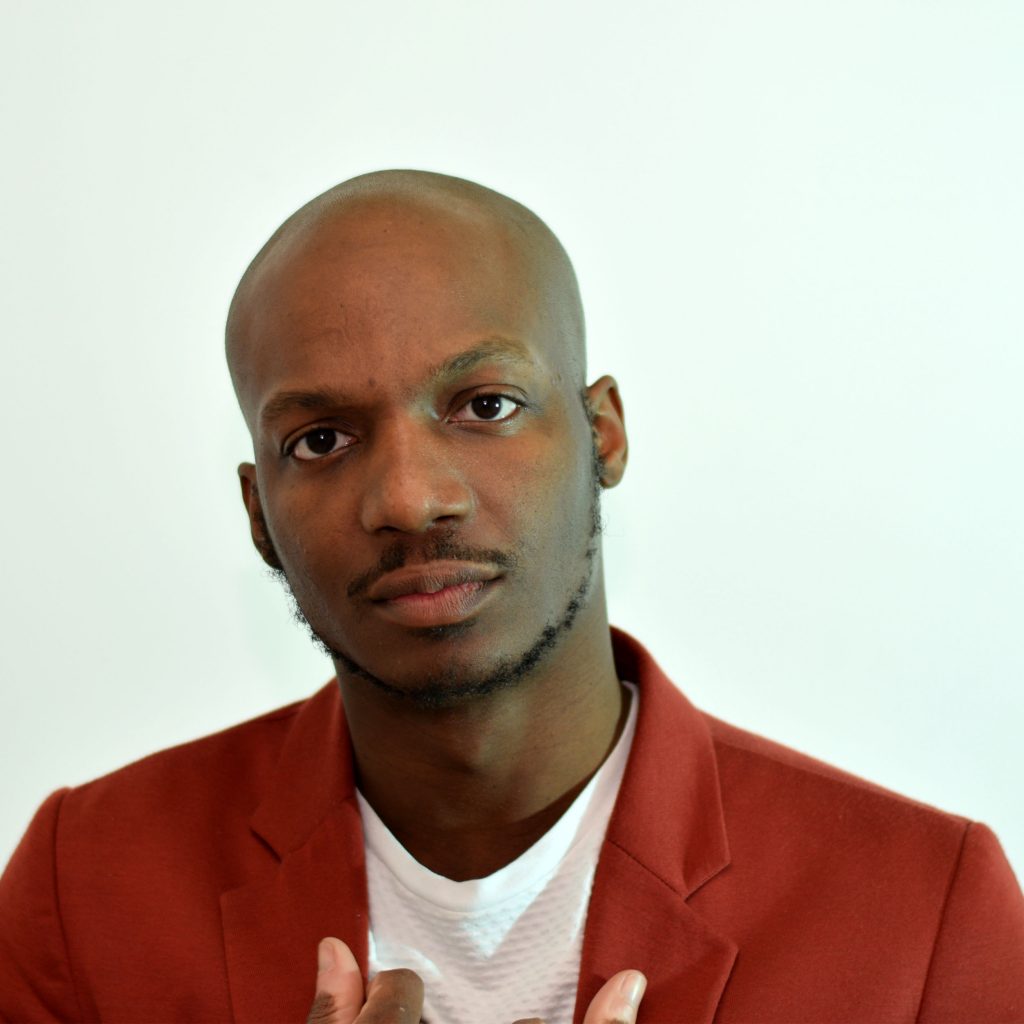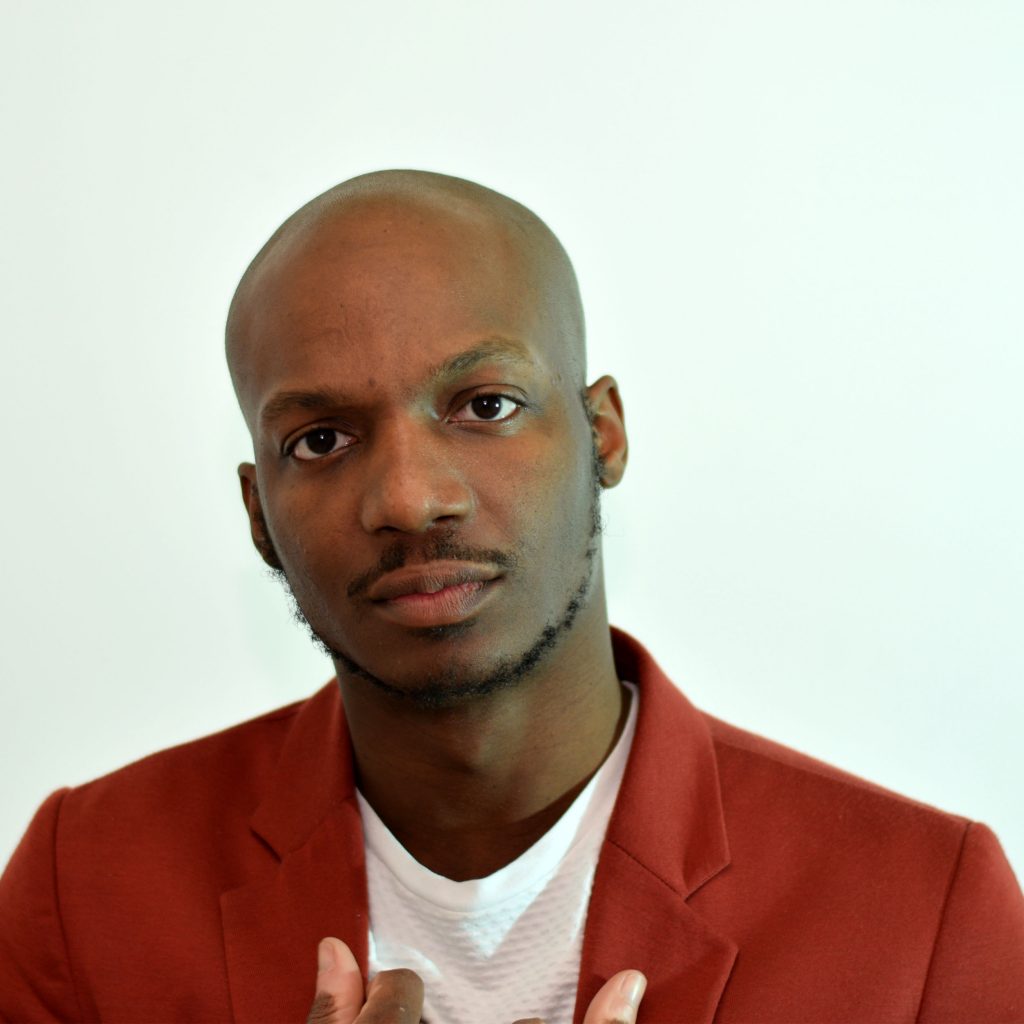 Stuck Producer's Comment
Paul Howard
Stuck presented some interesting challenges with regards to locations. We needed a nightclub, a church and an outside location away from the public as one of the actors would be virtually naked in the middle of winter.
Add to that we filmed it the weekend before COVID-19 first lockdown. The original director was Sara Jordan but she developed COVID symptoms just 3 days before the shoot. Adrian Dean stepped in to the breach at the last minute.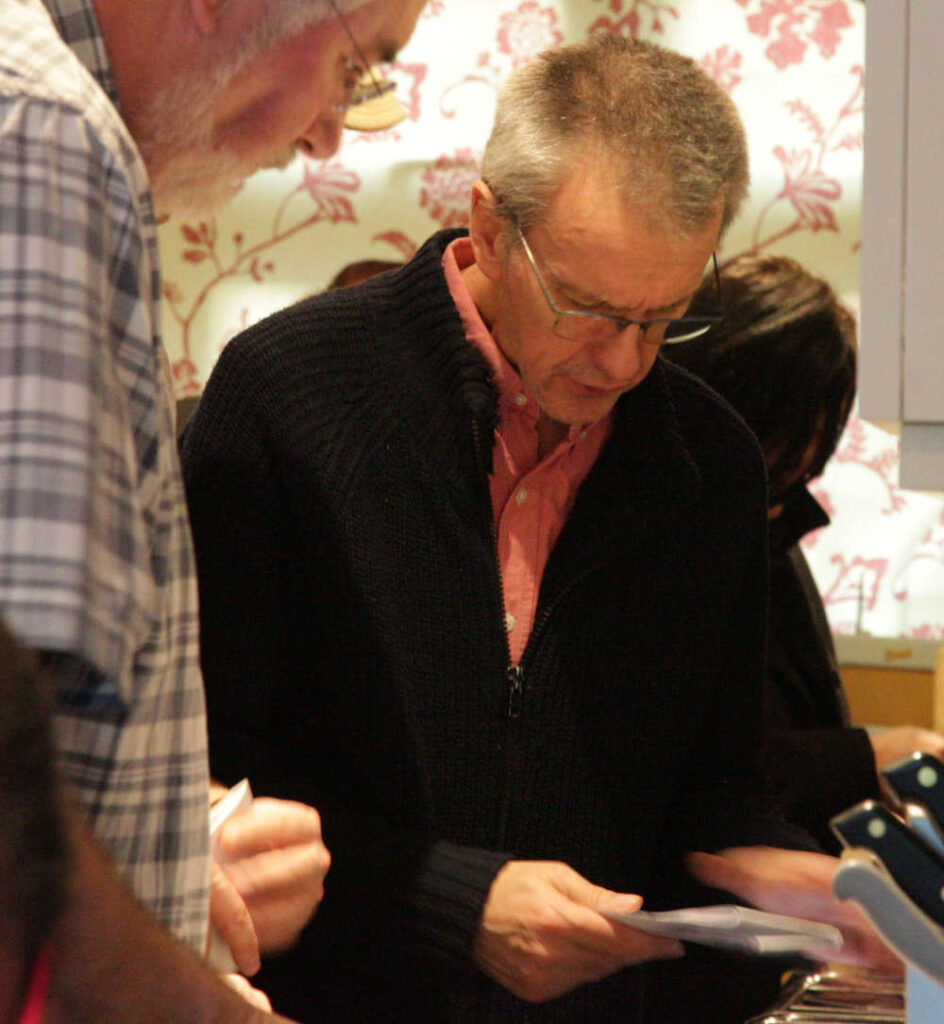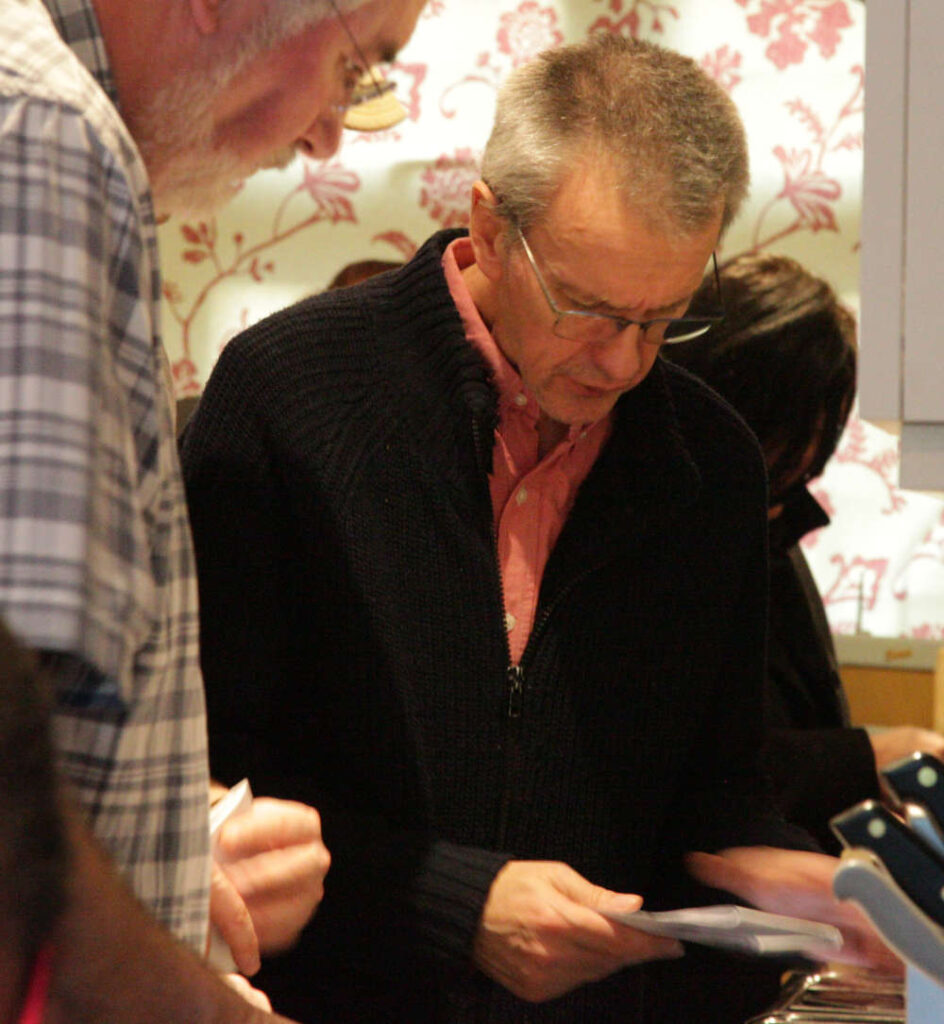 Stuck – Writer's Statement
Sara Jordan
People are endlessly fascinating and I usually get ideas for my writing from real life situations and characters I meet.
With Stuck, I got the initial idea when I met someone who was recently divorced. She told me that she had only gone through with the wedding because the grooms parents had paid for a very expensive patio! I found that darkly comical, but was also struck by how awful it must be to feel trapped by a huge upcoming wedding that you don't want to go through with.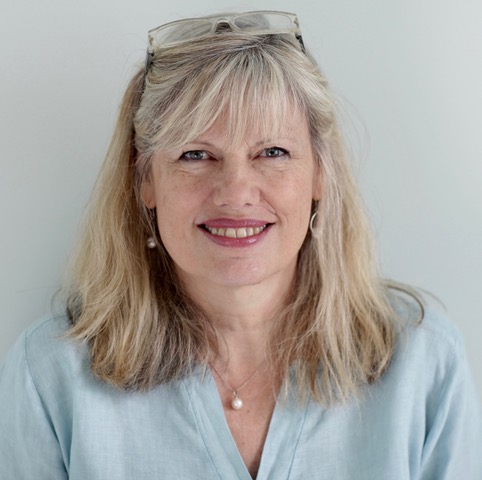 The traditional hen/stag night was a great setting to highlight the dilemma where the characters are both physically and metaphorically stuck.
I'm always interested in exploring the nature and value of friendships and in Stuck we have the girls strong bond but the grooms so called best mates leave him in a terrible situation and it is the misfit, the usually ignored 'Fish' who is actually there for him.
| | |
| --- | --- |
| Producer | Paul Howard |
| Director | Adrian Dean |
| 1st Assistant Director | Lati Gbaja |
| Director of Photography | Raki Ralko |
| Writer | Sara Jordan |
| Editor | Mukesh Narayanan Sivarajan |
| Cast | |
| Hayley | Isabella Rose |
| Ryan | Josh Moody |
| Lauren | Rachel Bradley |
| Fish | Zachary Goldman |
For full cast and crew list, see our IMDB page
Stuck – Independent Review
By Jenn Coulter – Film Critic
Right from the beginning, the short film Stuck treats audiences to a pretty hilarious image – a woman decked out in a pink dildo headband and holding a giant inflatable penis is trapped in a toilet stall. After a few moments, the scene cuts to a man in a similarly goofy predicament. This fellow is chained to a pipe, stark naked except for an elephant over his willy. The parallels between the two's situations make for an amusing setup, and as the film continues, it becomes clear that they have a little more in common than just being stuck in embarrassing situations. As it turns out, they are both engaged to one another…and neither of them particularly wants to go through with the wedding.
On one hand, we have Hayley (Isabella Rose), who is trapped in a nightclub toilet. Luckily for her, her best friend Lauren (Rachel Bradley) is around to help. These two have great chemistry and the actresses do an excellent job of portraying the dynamic of two long time best friends. Their interactions are genuinely funny, like when Hayley shoves the inflatable penis over the doorway and Lauren awkwardly tosses it into another empty stall. As Lauren tells Hayley that she will be out soon, Hayley begins to cry – not because she's trapped in a toilet stall, but because she feels trapped into marrying Ryan.
Meanwhile, Ryan (Josh Moody) has been abandoned by his friends at his own stag party. He doesn't get a friend like Lauren, but instead winds up striking an unlikely friendship with a guy named Fish (Zachary Goldman). As Fish tries to pick the lock on Ryan's cuffs, he confesses that he doesn't understand why Ryan is getting married while he's in the prime of his youth. Ryan fidgets and realises that he doesn't actually want to get married after all. In fact, as evidenced by how he speaks about her, he doesn't even really LIKE her – he just thinks she's "fit."
The film intercuts sequences from Hayley and Ryan's perspectives. This method helps to carry the narrative and really drives home the irony of their situation. Neither of them wants to get married to the other, but they're too nervous to actually admit it to one another. Funnily enough, they're more concerned with what their family will think as opposed to how the other will react to calling the wedding off. Really, it's more about the financial burden that it would place on their families – for example, Hayley remarks that their family members already paid for their patio. Lauren responds with a hilarious, "fuck the patio!" It's an interesting social commentary that examines the bizarre societal pressures and financial burdens associated with marriage.
The contrast between Hayley's relationship with her friends and Ryan's relationship with his also adds an interesting layer to this short. Hayley actually receives support from her best friend, while Ryan's friends have just left him chained to a pipe. He has to rely on an acquaintance to vent his issues to. On top of that, even this acquaintance can clearly see that he should NOT be getting married. This suggests that Ryan has more problems than just his loveless relationship with Hayley. It's possible that he's being stringed along in all his friendships, too.
Fish is an interesting addition to the cast, as he's apparently been largely ignored by Ryan and his friends. Despite this, he is still willing to do the monumental favour of alerting Hayley that Ryan wants to cancel the wedding. Ryan and Fish's chemistry is equally as strong as Lauren and Hayley's – the actors seem to vibe with one another very well, making for a realistic performance with good comedic timing.
It actually gets to the point where both Lauren and Fish are saying that they will personally deliver the news that they won't get married, since Hayley and Ryan are both too chicken to make the moves themselves. Still, in the end, neither of them can get through in time to call the wedding off since they're both stuck in their respective awkward predicaments. Of course, not only are they literally stuck, but they are now metaphorically stuck in a loveless marriage…all because they didn't want to bother their family members with refunds.
The ending of the short is excellent. Seeing our two leads staring, dead-eyed and fake smiling, really drives home the hopelessness of the situation they have gotten themselves into. An ominous version of the classic "Here Comes the Bride" is the final nail in the coffin. It is clear that they are very, very stuck. Overall, the short is a darkly funny examination of the culture surrounding marriage and weddings.
Stuck has been submitted to these film festivals.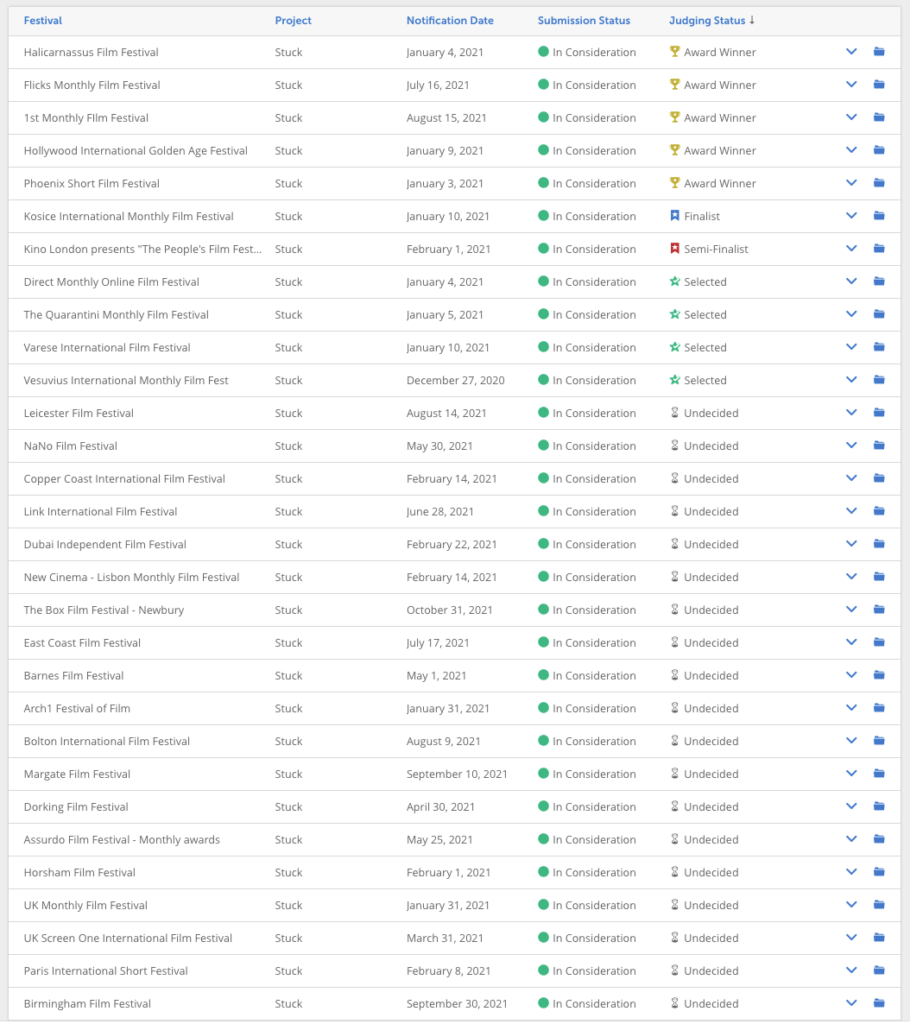 Watch the full film
Only members can access this content