"Off-His Job is an absurdist satire that could work just as easily as a horror film if one fully considers the misery it is depicting. It is sure to get a painful laugh of recognition from anyone who has ever found themselves slogging through comparable work."
Genre: Comedy
Duration: 11 minutes
Release Date: 13th June 2020
Written by Adrian Dean.
Synopsis
A recently fired homicidal employee is trapped in a moral quandary by two comically gossipy co-workers. Who can he kill first whilst maintaining political correctness?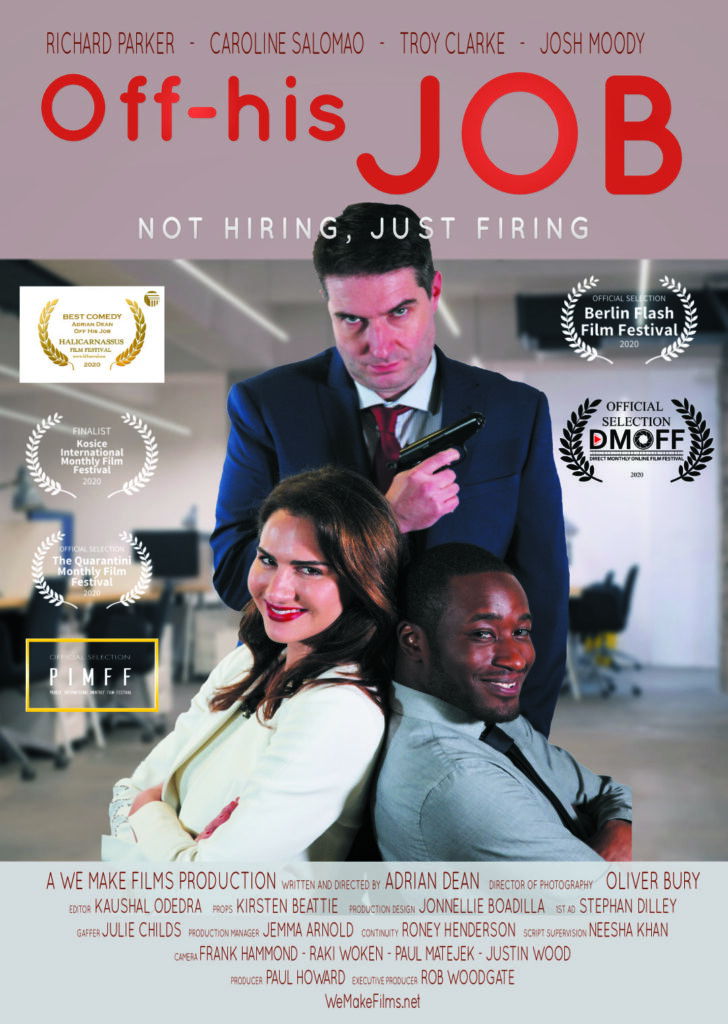 ---
Off-His Job Directors statement's
Adrian Dean
Adrian said, "From script to screen, Off-His Job was a journey. We worked hard as a team to pull off this cheeky comedy that is relevant and honest."
About Adrian
Adrian is a writer/director, a visual story teller and editor. Inspired by his Father's acting and playwriting career, Adrian graduated from London Metropolitan University with a degree in Film and Broadcast Production, before starting his own production company, 4word Motions.
Usually specialising in comedy, Adrian started out writing short scripts and then went on to direct and edit short films across various genres.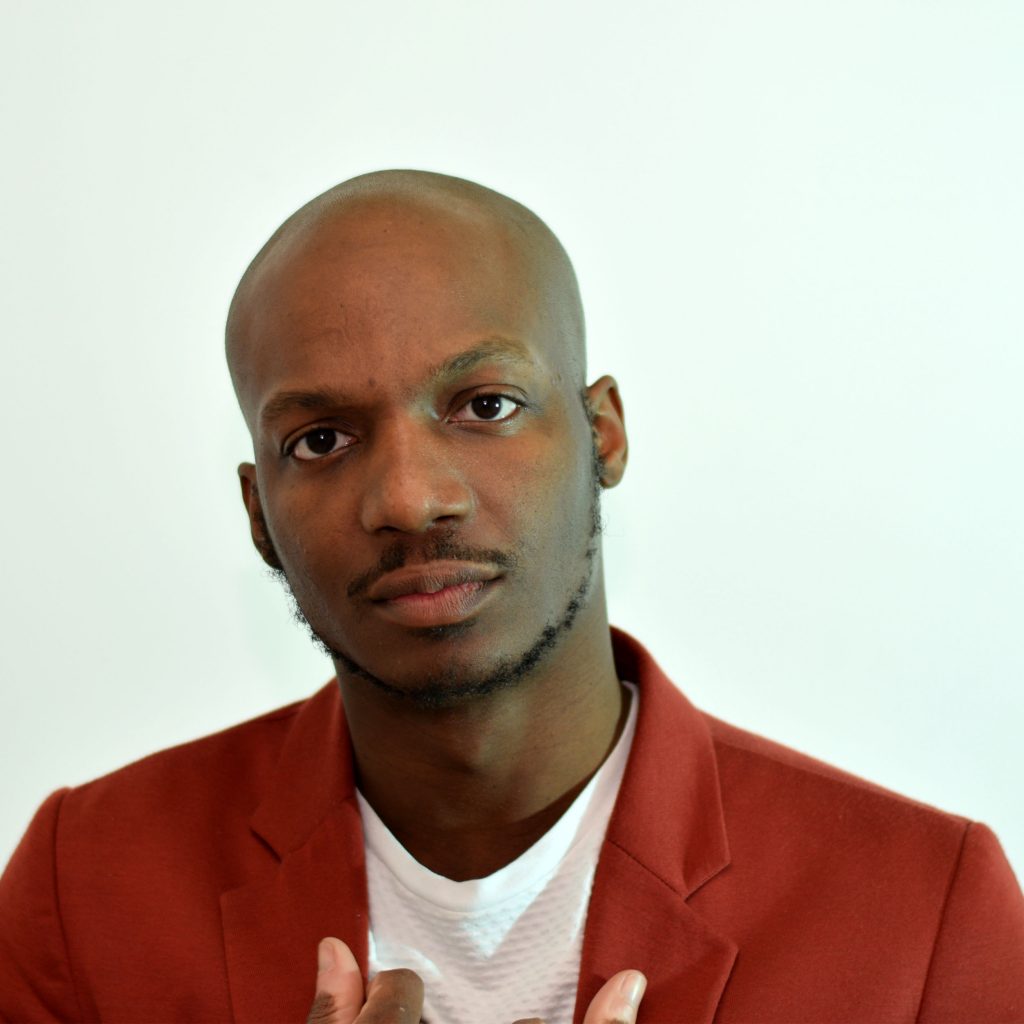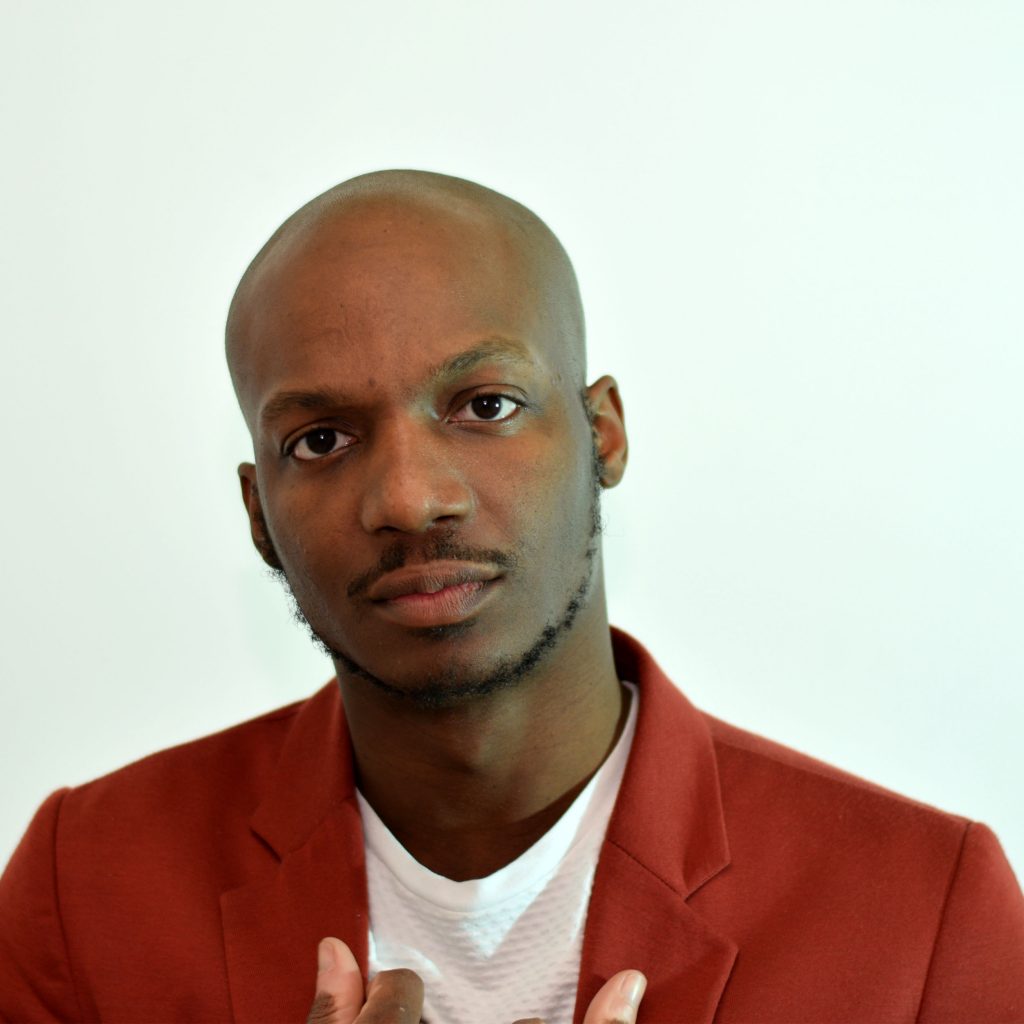 Producer's Comment
In "Off-His Job" we had to build a complete set from scratch in a warehouse. The set dressing and production design team did an amazing job. We only had a weekend and they constructed the entire set within a few hours.
It was filmed near fireworks night and the sound recordist and sound mixer, in post, had quite a challenge removing the bangs from the dialogue when we ran into the evening.
These were just a few of the challenges the team had to deal with, but as always, the biggest challenge was a time during the shoot, which puts pressure on everyone. Well done to the team.
| | |
| --- | --- |
| Producer | Paul Howard |
| Director | Adrian Dean |
| 1st Assistant Director | Stephan Dilley |
| DOP | Oliver Bury |
| Writer | Adrian Dean |
| Editor | Kaushal Odedra |
| Cast | |
| Michael | Richard Parker |
| Billy | Josh Moody |
| Jane | Carolline Salomão |
| Peter | Troy Clarke |
| Rory | Tamas Karpati |
| Chekov | Stephan Dilley |
For full cast and crew list, see our Off-His Job IMDB page
Off-His Job – An Independent Film Critic Review
By Mike Gates
Off-His Job is a black comedy that brutally skewers office politics. Also in its' crosshairs is the petty mentality that office life ultimately cultivates, and the general despair of having to suffer through it. The major events of the film revolve around Jane and Peter, two infantile workers who spend all of their time looking for ways to disrupt the work of everyone else in the office. When the film first opens, Jane is relaying a salacious bit of gossip to Peter, which she abruptly cuts off when she sees Billy approaching. The two return to their desks and feign working, just long enough for Rory to settle in before Peter pelts him with a balled up piece of paper.
Not one to let it go, Rory returns with a paper wad of his own, but with especially unfortunately timing, as the boss (Billy) approaches from behind, just as it is being launched. He's thoroughly chastised for this and for not being able to locate an important document on his desk. A document which he comes to realise is the one he's just hurled at Peter. Peter bounces the paper off of the bosses' head just as the search is underway. However, the blowback strangely falls to Rory, who now has "two strikes" against him, per the bosses' warning. The two office hecklers enjoy their handy work as the camera moves along then to Michael.
"he's excited at the sound of his name being yelled from the bosses' office"
Michael is both hopeful and boastful that he is about to receive a promotion. He's so anxious for it and self-absorbed that he mistakenly thinks he's found an interested audience in his temperamental co-worker. What he's actually found is a way to tick off the already surly man by interrupting him while he's talking to someone else on a blue tooth headset. Still, he's excited at the sound of his name being yelled from the bosses' office, and he runs to get the good news.
We have to wonder then where Michael got the impression he was about to be promoted, because the performance review which he receives is far less than stellar. Per the bosses' estimation, Michael is trudging along in a mediocre state, neither excelling expectations nor failing to meet them, just maintaining a satisfactory work performance. Michael, indignant and full of pompous confidence, tries to argue the point, which only gets him deeper into trouble for perceived insubordination. Before the meeting is over, he's being asked to pack up his things and leave the office. Naturally, the entire work force has been listening intently to this firing, with their ears pressed against the wall. It doesn't take much prodding from Jane and Peter to send Rory over the edge when he returns to his desk. He grabs the pistol concealed in his angry co-worker's drawer and declares his intention to shoot Peter.
Is it "bigger trees", or bigotry
Peters' response to this is to launch into an incoherent story about trees that leads to a pun with "bigger trees", or bigotry. Peter is black and Michael is white. Just in case he misses the accusation, Jane elaborates, branding him a racist. Michael is incredulous at the charge, but finds the two are not receptive to his arguments. To be fair, he then turns the gun on Jane. Peter quickly pipes up and calls it a case of sexism, further frustrating Michael into indecisiveness. They encourage Michael to shoot Roger, an older employee peacefully dozing in the corner, but he declines. With no other option apparent, Michael resolves to wander off and simply kill himself. Peter and Jane criticise the decision. In particular, the noise from the decision, which could have awoken Roger.
The tone of the film is like a very dark Looney Tunes cartoon, in which Jane and Peter are the Bugs Bunny who can torment their hunter (or, in this case, workplace competition) without serious fear of reprisal. The indignities of a competitive and overbearing workplace are thoroughly lampooned in a tone that belies the miserable soul-crushing experience that a menial job of this kind really represents. It's an absurdist satire that could work just as easily as a horror film if one fully considers the misery it is depicting. It is sure to get a painful laugh of recognition from anyone who has ever found themselves slogging through comparable work. A strong cast and hilariously morbid theme song make this vision of office hell a one of a kind viewing experience.
Off-His Job has been submitted to the following film festivals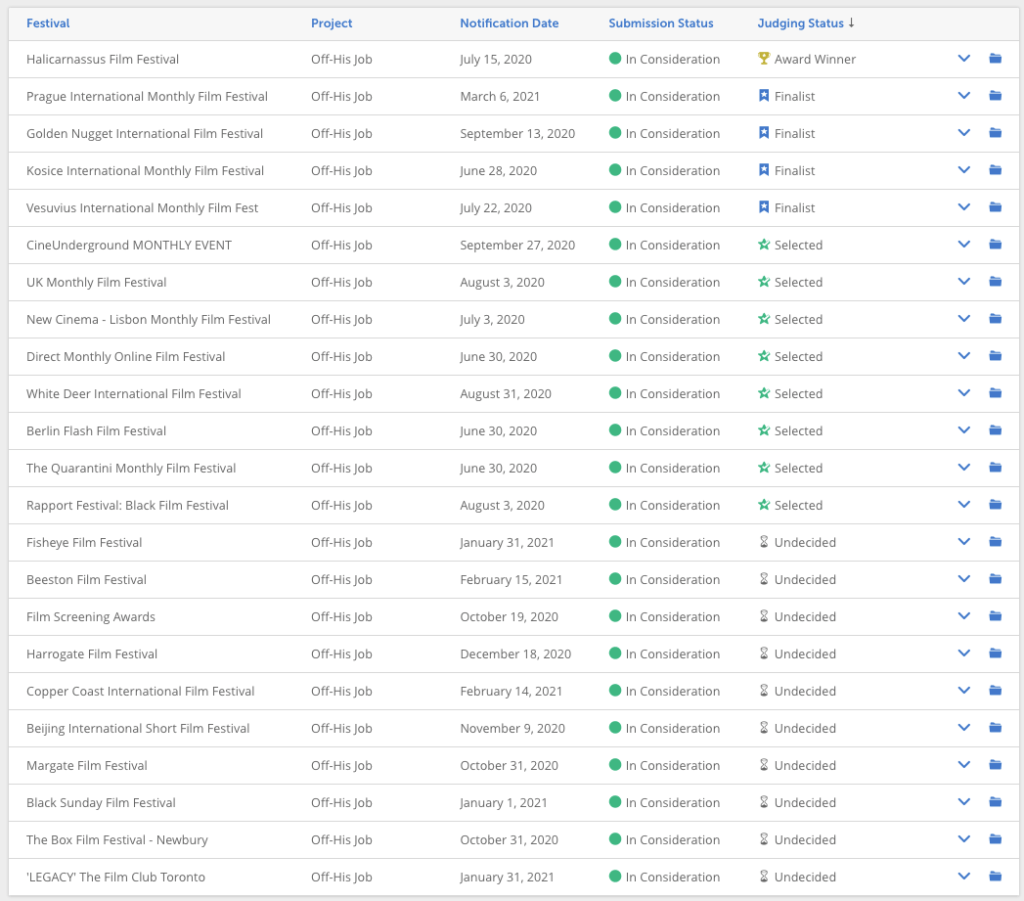 Watch the full film
Only members can access this content