Goodbye Danny is a dark comedy that has everything from the supernatural to humour. Produced and released under the banner of 'WeMakeFilms', the 6-minute short is a tale of obsession and revenge. Set in a suburban home with a twist at the end.
Genre: Dark comedy
Duration: 6 minutes
Release Date: 27th June 2020
Written and directed by Andre Llewellyn.
Synopsis
When her TV crush is killed off, a distraught teenage girl turns to dark magic for revenge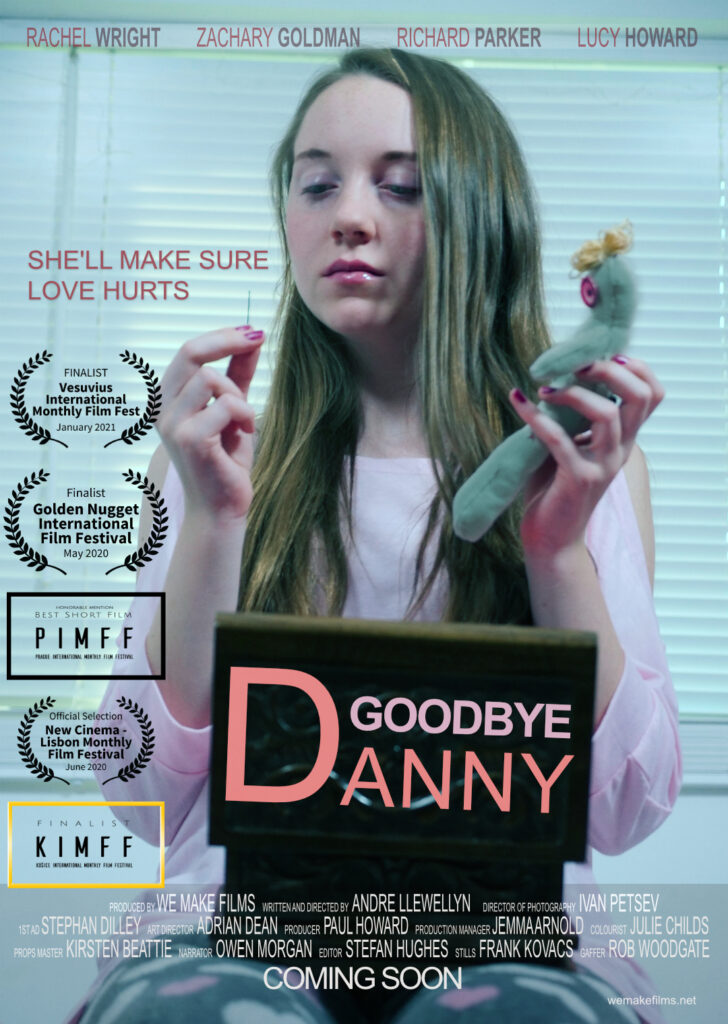 ---
Producer's Comment
I love making films that mean something, make us think and/or make us laugh. Hopefully this film does all three. The hard work from all the cast and crew comes through in the final film.
As is nearly always the case in short films, time was the main factor. As with all our productions, many of the cast and crew are inexperienced and have to be helped and coached so that we can get a good film at the end. This all adds further pressures on the time.
Cast & Crew
| | |
| --- | --- |
| Producer | Paul Howard |
| Director | Andre Llewellyn |
| 1st Assistant Director | Stephan Dilley |
| DOP | Ivan Petsev |
| Writer | Andre Llewellyn |
| Editor | Stefan Hughes |
| Cast | |
| Harriet | Rachel Wright |
| Dad | Richard Parker |
| Danny | Zachary Goldman |
| Julie | Lucy Howard |
| Narrator | Owen Morgan |
| Radio Voice | Frank Kovacs |
For full cast and crew list, see our Goodbye Danny IMDB page
Independent Film Critic Review of Goodbye Danny
By Rehan Abbasi
Goodbye Danny is a 2020 psychological dark comedy, written and directed by Andre Llewellyn. Produced and released under the banner of 'WeMakeFilms', the six-minute short is a tale of obsession and revenge set in a suburban home with a supernatural twist.
The film stars Rachel Wright ("Jitters") as the lead character Harriet, Lucy Howard as her sister Julie and Zachary Goldman as Danny. In addition, Richard Parker ("Off His Job") also stars as the girls' seemingly innocuous father. The film tells the story of an imaginative suburban girl Harriet who is an avid fan of Danny, a fictional character in her favourite television series. Like every other teenage girl her age, Harriet is in love with this teen heartthrob of her favourite tv series. She has had photos taken with the actor who plays Danny and writes addictively about their imaginary love story in her secret journal.
Harriet's onscreen crush has developed to such an extent that she has dreams about Danny and longs to be with him. However, unbeknownst to Harriet, the minds behind the television series have decided to kill off Danny at the end of season 2. Upon witnessing this, Harriet becomes distraught and extremely devastated and in her pain, she turns to a reactionary mechanism that she doesn't fully grasp or understand; dark magic. Driven by a broken heart, Harriet goes off on a path of revenge; hurting the one person she cares about the most.
Horror or not?
Taking inspiration from the masters of the horror genre, James Wan and M Night Shyamalan; the makers of Goodbye Danny succeed in creating a taut and tense thriller that takes place in a confined space. Making effective use of volumetric spaces and camera work, the filmmakers succeed in creating a claustrophobic environment in Harriet's room as she works on her spells. The sound editing and sound mixing are top notch; aiding in the creation of the particular atmosphere required for the story. The sound design of the demonic whispers and the tug of war going inside Harriet's mind is particularly well done.
The film establishes it's characters fairly early and the action moves effortlessly between the kitchen, where the concerned father is, and Harriet's bedroom, where the dark magic is taking place. The filmmakers not only succeed in creating an eerie atmosphere but also keep the tension on edge particularly in the moment where the father, after hearing weird noises, slowly comes up to the first floor and starts moving towards Harriet's room; completely unprepared for the demonic ritual taking place in the room.
"For a short film of this genre, the finale is unexpected."
"Goodbye Danny" also gives its supporting character, the father, much more to do than playing the role of a victim. Rather, the father is the heart of the story; effortlessly juggling between the role of a man lost in his love for sports and the emotional bedrock of his daughters. For a short film of this genre, the finale is unexpected. In addition, there is also a post credits scene which adds a new twist to the story and feels like a proper send off of the main narrative.

In an era where the black magic and voodoo doll concept has been done to death, "Goodbye Danny" feels like a breath of fresh air in this overstuffed genre. The film takes the obsessive fan narrative and twists it upon its head, resulting in a modern and evolved take on this age old narrative. To sum up, this six minute film is a tense and gripping look at an obsessive fangirl choosing black magic as a way of punishing those who took her imaginary love away. The film cleverly plays upon the expected cliches and is an unrelenting ride from start to finish.
Goodbye Danny has been submitted to the following film festivals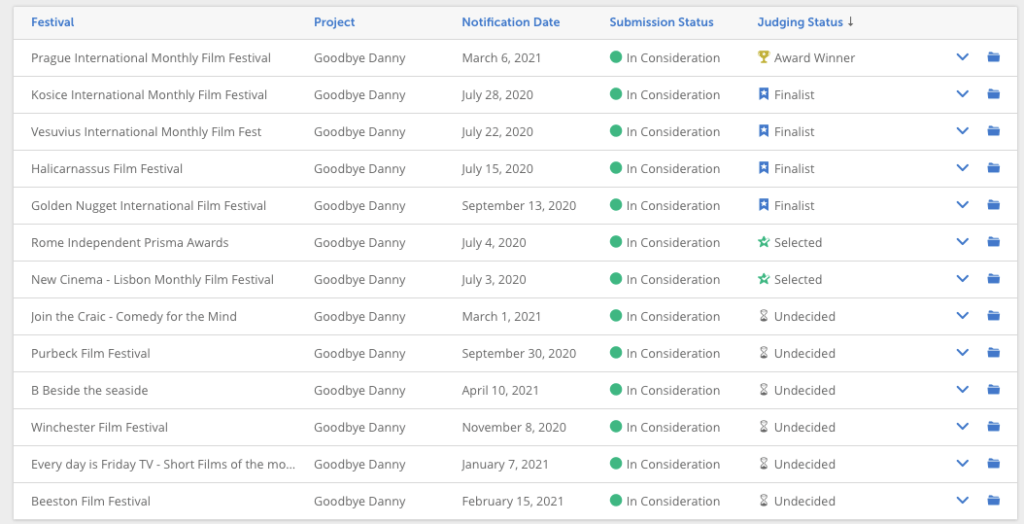 Watch the full film
Only members can access this content