Genre: Dark Comedy
Duration: 3:45
Status: Completed – in Festival Run
Synopsis
A dysfunctional family take extreme measures to correct the behaviour of one of their own.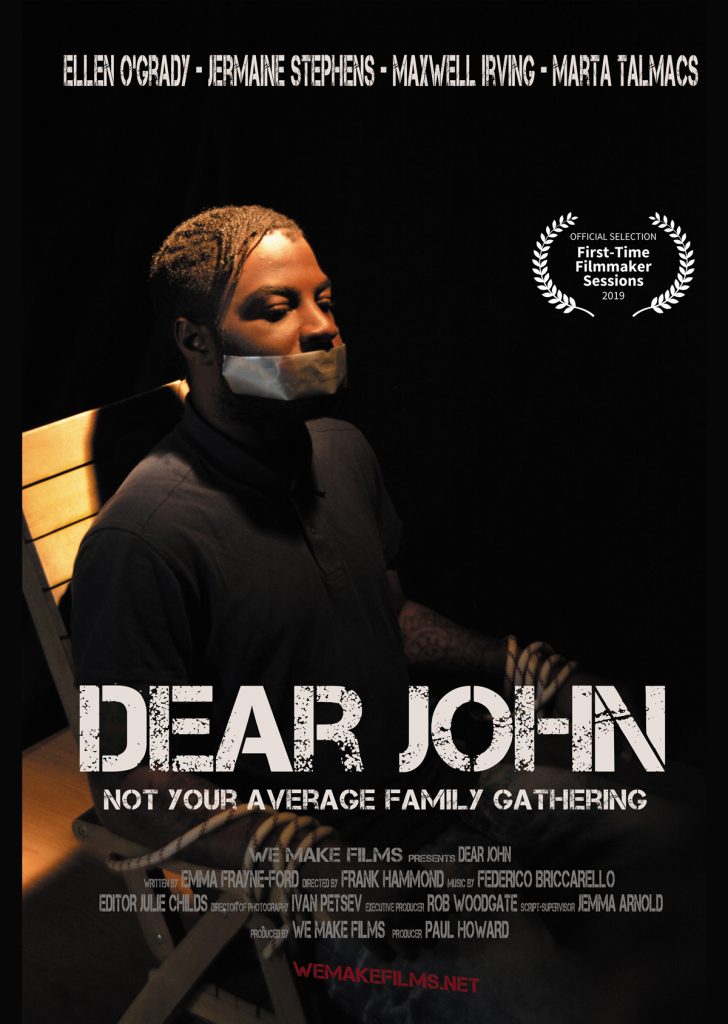 Directors statement
Dear John was an amazing experience. I can't thank the cast and crew enough for helping to put together my vision of Dear John. It was a smooth and enjoyable shoot, which isn't always the case on a 1-day shoot, so I'm very pleased. The end product is something that I'm very proud of, and I hope that everyone who was involved is as proud as I am. Thanks to the awesome team and I hope to see you all on my next film!
About Frank
Frank has helped to produce and direct several shorts, directed and produced his own short films and is also a part-time 1st AD and Gaffer with lots of on set experience.
Producer's Comment
Frank's unique style always brings out an interesting film. On set, he generates an exciting environment and is always ready to help those around him. He loves to bring out the best in his cast and crew and works tirelessly to produce the film in his style.
| | |
| --- | --- |
| Producer | Paul Howard |
| Director | Frank Hammond |
| 1st Assistant Director | Jack Hussey |
| DOP | Ivan Petsev |
| Writer | Emma Frayne-Ford |
| Editor | Julie Childs |
| Cast | |
| Mother | Ellen O'Grady |
| John | Jermaine Stephens |
| Sister | Marta Talmacs |
| Father | Maxwell Irving |
For full cast and crew list, see our IMDB page

Film Festival Submission Status


Watch the full film
Only members can access this content